Make the Best Family Reunion Shirts with Creative Customizing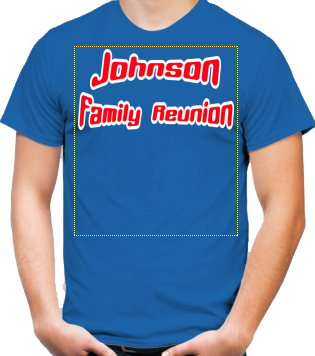 Family reunions are a time to catch up and when you are bored with that, play catch. No family reunion would be complete without a family reunion shirt that everyone is threatened through blackmail to wear for the huge family photograph. Family reunion shirts must all match, but sometimes families make the mistake of matching the sizes as well. To get custom made family reunion T-shirts in a variety of sizes that fit everyone properly, go with Creative Customizing.
At Creative Customizing you can choose the type of T-shirt that you want, from heavy shirts to organic tees for the environmentally conscious. If you are on the board of the family reunion committee, you can access an online design studio to create a better design than last year for your family reunion T-shirts. There is no minimum order for the family shirts, so if it's just the immediate family who gets the cool tees, that's fine by us. Orders over $50 ship for free, so you can save money in the budget for the inevitable family reunion dance off cash prize.
Creative customizing allows shirt designers to open up a web store. As people order the designs that you created, we will print and ship them off, leaving us with the back room work and you only to attend to your designs. This option is excellent for ongoing teams or event apparel. This way every can get the size that they need and proof the design before ordering. It's possible to create a variety of different designs for the same event, for instance, with teams that will compete in a friendly competition against one another. One group can have a certain type of shirt and the other will have a different design and color. Creative Customizing is the best place on the web for shirt variety and shirt design.