Be Yourself: Design Your Own Shirt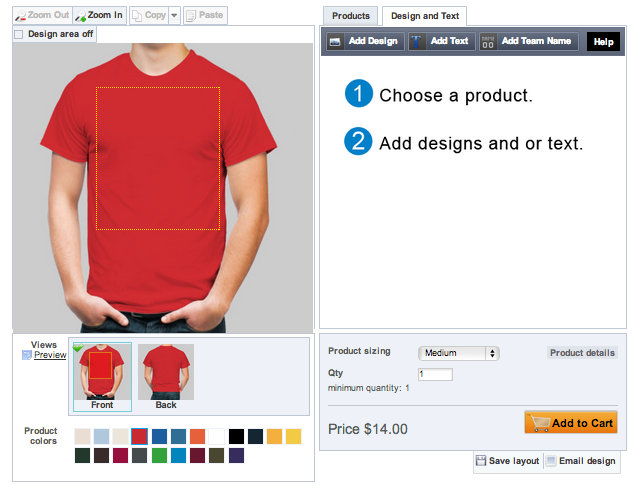 It really can prove to be a very worthwhile activity to design your own shirt. There are many different ways for people to go about claiming their own identity and really setting themselves apart and one thing that is sure to help with that is none other than their own fashion sense. People for the most part have varied tastes in fashion. There may be those that opt for a more extravagant and outrageous look while there are also those that may prefer a more conservative and much more reserved look.
There are no wrong ways to go about with one's style as long as it allows people to be both comfortable as well as presentable. We at Creative Customizing can help you achieve that trendy and fashionable look you are looking for and can be an excellent resource if you are looking to have someone guide you when you design your own shirt.
It can then be ideal to design your own shirt so that the style truly is expressed in every article of clothing that you wear. It is incredibly important that people are able to maintain their identity in every facet of their self and one thing that is included in that process is of course the clothes that people wear.
It is then suitable for many to customize shirts so that people are better able to truly let what they are about show up on the clothes that they wear. The process of customization allows for one's identity to truly shine and be appreciated by the people that see it. We at Creative Customizing use sublimation, direct-to-garment, and screen-printing, as well as embroidery for customizing apparel for our customers.
It can indeed be better to design your own shirt. So that you are able to better control how a specific shirt will fit as well as how a specific shirt will look. There are many things to consider when it comes to being able to truly make a shirt one's own and that is part of the fun when it comes to customize shirts. The first thing that comes to mind for many people when it comes to design is of course the look of the shirt.
It needs to be a specific type of design that the designer would really like to wear and that is of course the most specific aspect of it. It can however also be wise to plan out the color schemes and the actual design of the shirt so that it does not become too much of a graphical overload. With Creative Customizing's interactive designer and extensive product selection anyone can create their own custom shirt!